Custom Area Rugs
Cummings Carpet One Floor & Home in Springfield is more than just your local flooring source! In addition to floor covering options like carpet and hardwood we also offer area rugs. If we happen to not have exactly what you want or need, we can help you do a special custom order. We make ordering a custom made area rug easy and affordable. Our selection of area rugs can cover many different budgets and personal styles, so be sure to stop by our showroom!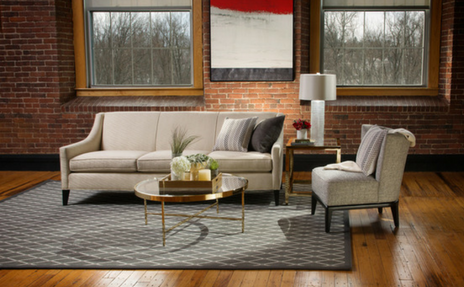 Benefits of Custom Area Rugs
Area rugs are meant for more than decoration, they can also be an essential part of your home. Area rugs do more than add style to your space; they also protect your floors, add comfort, and absorb noise caused by foot traffic or pets.
Since area rugs can easily be moved, rotated, or removed from a room if desired they are able to adapt to any space in your home. Since area rugs come in several different styles, you can choose to have it be the focal point of your room or blend in with your current décor. Our collection of area rugs includes many different shapes, sizes, fiber materials, textures, colors, patterns, and more.
Area rugs play a role in helping you define spaces within rooms in your home. For example, you could position furniture on or around an area rug to create a gathering space that is warm and inviting, or you could place one under your dining room table to create sense closeness. Area rugs can also help to make a large room feel cozier. In bedrooms with hardwood flooring you can add an area rug under the bed to create stop place for your feet in the morning.
Visit our showroom in Springfield, IL to see our entire collection of area rugs and to speak with one of our flooring experts!